NTT DATA, one of the leading system integrator firms in the world,
draws on our sophisticated technical skills and wealth of experience
in optimizing customer systems.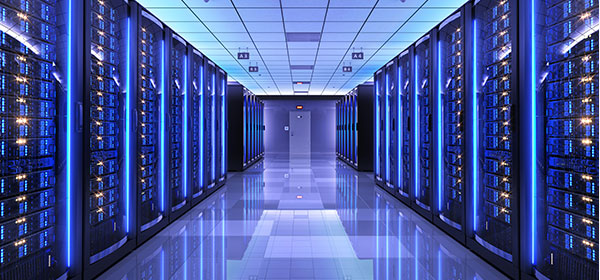 We have won the support of many customers and have a long record of providing high-quality outsourcing services. We aspire to be an organization that leads society at large through our relentless exploration of technologies to meet changing expectations. We are capable of providing highly reliable services based on a plural number of Internet exchange (IX) connections.
In addition to the on-premise IX connections in our Otemachi and Dojima data center buildings, we also have connections with the clusters of IX in their vicinity, as the three areas are Internet hubs in Japan. We have a site advantage offering little communication delay.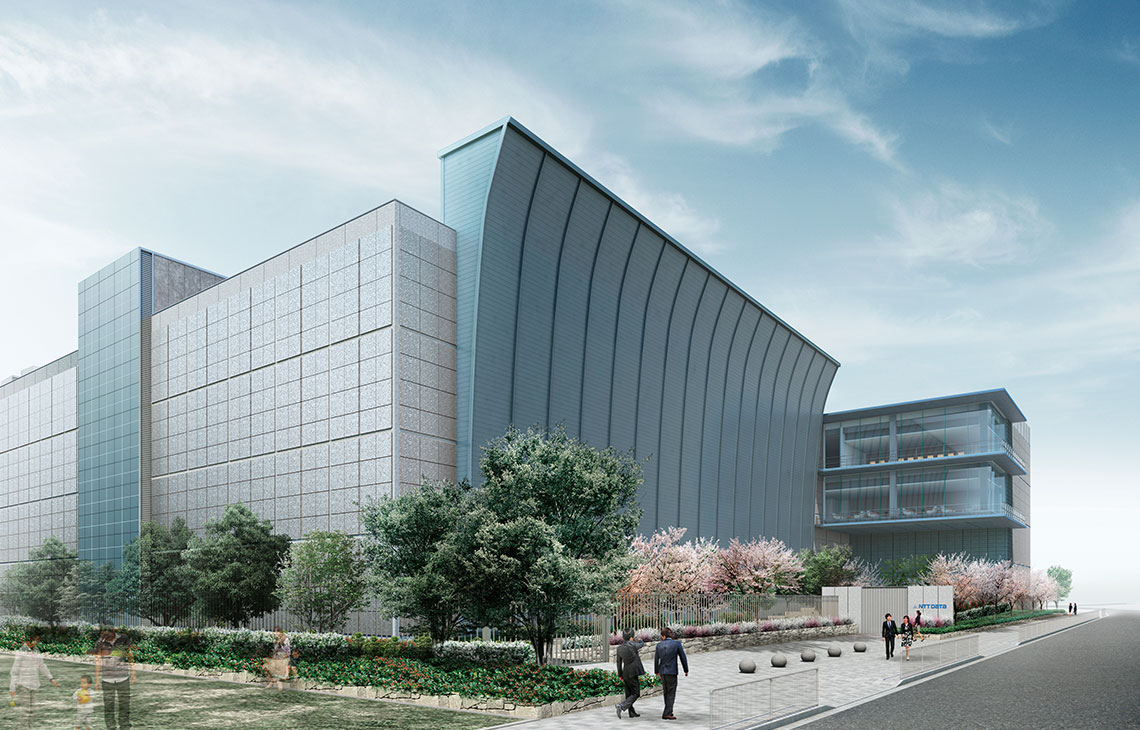 Mitaka Data Center EAST(Tokyo)
Opened in April 2018, the Mitaka Data Center EAST is one of the largest data centers in Japan, with an ability to house up to 5,600 racks and a maximum power density of 40,000 kVA. It also offers a high-load capability of 20 kVA/rack at maximum. To counter large-scale direct earthquakes, It is equipped with the leading-edge seismic isolation technology. Built with the combination of latest technology and our long-term experience, Mitaka Data Center EAST realizes diverse demands of the customers to meet their expectations.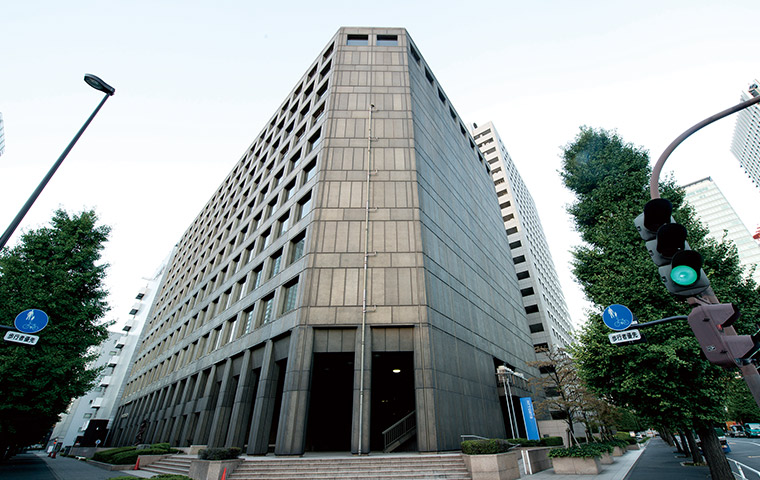 Otemachi Data Center(Tokyo)
A high-reliable data center in Otemachi, a hub of business and communications in the center of Tokyo. The Otemachi Data Center is the leading center of internet connection services in Japan, connection with multiple IXs and network carriers within the facility. It is adopted by major enterprises and financial institutions for mission-critical systems headquartered in the vicinity of Tokyo Station.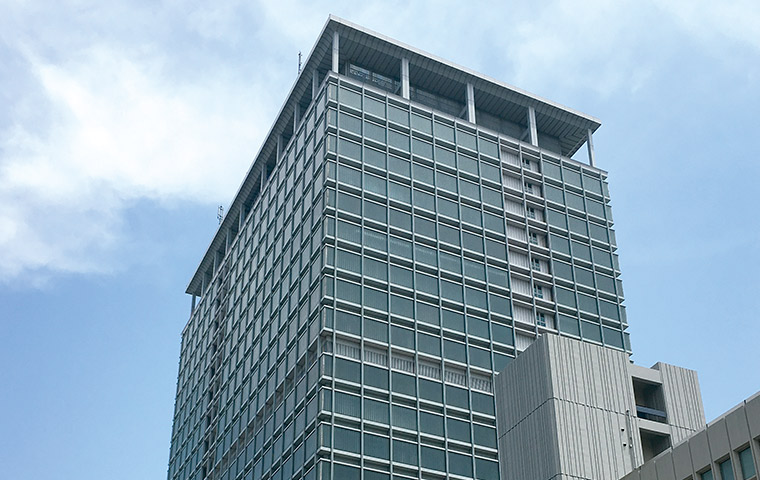 Dojima Data Center (Osaka)
A high-reliable data center located in NTT Dojima Telepark, the network communication hub center in western part of Japan. We offer carrier-neutral services enabling connection with multiple IXs and carriers for peering. The high reliability of its facilities is also utilized as disaster recovery (DR) site for various customers.
Network Connectivity
Otemachi Data Center and Dojima Data Center carrier-neutral, the network communication hub centers in eastern and western Japan.
Both centers have an on-premise connection with the JPIX, BBIX, and other carriers for peering in their respective buildings.
Because both the Otemachi and Dojima areas are Internet hubs, IXs and network providers are clustered in the vicinity of the buildings. The centers are also connected with that IXs, and consequent, have a site advantage offering little communications delay.
Our data centers have a Meet Me Room (MMR), where IXs, network providers and ISPs connect others, is utilized as a hub of network.
The Otemachi and Dojima data centers are also connected by wideband networks, and this enables the construction of BCP and DR environments linking Tokyo and Osaka.


With a view to giving our customers an IT infrastructure to support our customers business, we engage in consultation for cloud optimization and related development, operation, and maintenance.
Services provided
Our infrastructure directors select and operate the optimal type of IT infrastructure for the particular customer.
Our customer can concentrate on the actual business while constantly making use of the optimal infrastructure.

Specialists in customer cloud use
Consultation for optimal cloud use as viewed from the customer's perspective
Description of the optimal architecture based on a wealth of experience in cloud use

Expert skills and know-how
Construction of a hybrid cloud environment
Construction and provision of infrastructural environments including networks and security

Integrated operation of cloud environments and outsourcing
Integrated surveillance of hybrid cloud environments
Integrated operation of cloud environments drawing on a deep store of know-how in operation of large-scale data centers
Total support for services provided

Platforms for integrated management of cloud environments
Improvement of productivity through integrated management of cloud environments
Delivery of management functions for portals, verification/security, and other items, and optimization of cost

Pooling of NTT DATA's cloud-related knowledge
Cloud introduction experience, cases of use, and best practice
Implementation of cloud-related technical assessments, advance studies, and proof of concept (POC)
* Collaboration with other companies in the NTT Group and NTT laboratories
Multi-cloud connection services
We offer a private connection service between our data centers with Amazon web services or Microsoft Azure.The use of multi-cloud connection services enables interconnection of multiple clouds. This makes it possible to adopt the optimal cloud for the system features, and to seamlessly coordinate systems and data. As a result, our customers can obtain hybrid clouds, which are anticipated to go into wider diffusion from now on, both safely and with a high degree of reliability.


NTT DATA deploys methodology for the construction, operation, and quality assurance of cloud services cultivated in Japan, and delivers services in the construction and operation of IT infrastructural environments on a global basis.
As a member of the all-NTT Group, the entire NTT Group not only provides and stably operates data centers, but also supplies seamless IT infrastructural environments encompassing international networks.
Today, companies are facing needs for tasks such as examination of local system infrastructures accompanying offshore siting, consolidation of sites whose numbers have increased due to M&A and other factors, and the integration and optimization of IT infrastructures along with tighter governance for offshore sites already established, etc. As this evidences, proper control and management of IT infrastructures has become a management agendum that is closely intertwined with business strategy formulated from a global perspective.
We offer one-stop services in everything from consultation on strategic studies for global IT management to the construction and operation of optimal cloud environments matching the needs of the particular customer, all based on coordination by all members of the NTT Data Group, inside and outside Japan. Besides operating data centers in single countries, we operate IT infrastructural environments spanning a plural number of countries including Japan.

Contact us at the email address below for any service inquiries.